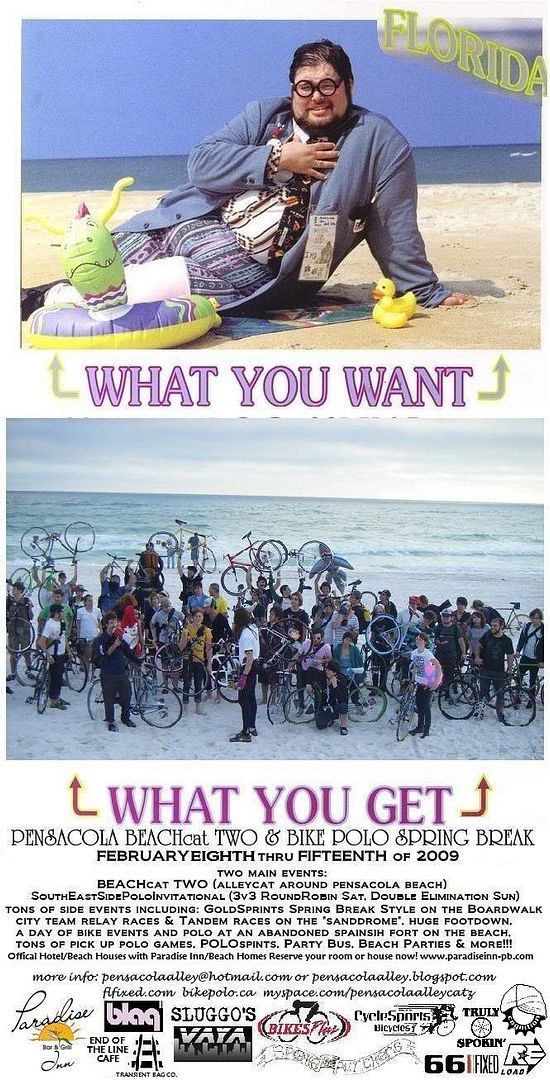 (dates changed from 17-22nd to the 10-15th due to mardi gras rates at the beach)
events including:
the two main events:
PENSACOLA BEACHcat TWO (race around the barrier island that is pensacola beach checkpoint style) SATURDAY
FRIENDLIES POLO TOURNAMENT SAT & SUN (everyones mallets into a barrel and randomly picked teams. you wont be on anyones team from your city. 3-4 courts including the main lovely streethockey rink)
other events during the week including: Gold Sprints Spring Break style, SESPI rematch, Pick up games, Party Bus, City Team Relay races and Tandem Races on the Sand"drome", day at an abandoned spainish fort at the end of the island, tons more events beach spring break style in the works dont want to spoil to much!!!
Group travel from up north and hotel rates being worked on! GET INTOUCH EARLY IF INTEReSTED!
keep intouch pensacolaalley.blogspot.com and myspace.com/pensacolaalleycatz